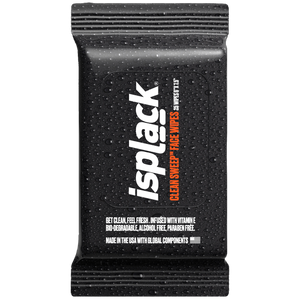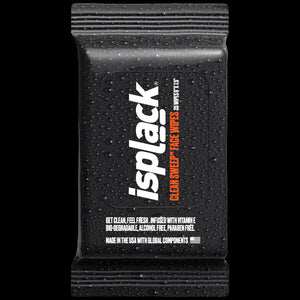 Sweat, grim, and dirt remover.
Make it a clean sweep—both on the field and after the game. Athletes and fans alike rely on isplack® Clean Sweep™ Face Wipes to quickly and easily remove dirt, sweat, makeup, sunscreen, and high-performance eye black, like isplack® Undereye Stick. Tuck these ultra-moisturizing facial wipes into your gear bag for a clean sweep whenever you need it, and you'll be sure to leave the field feeling fresh, rejuvenated, and ready to tackle your next adventure. What are you waiting for? Go. We got you covered.
With 25 moisturizing wipes in every resealable pack, isplack® Clean Sweep™ Face Wipes contain Vitamin E and mineral oil to help you freshen up in one clean swipe. Plus, they're biodegradable and American-made using solar energy, so you can feel good about what you're putting on your face.
      Hypoallergenic

      Fragrance free

      Alcohol free

      Paraben free

      Phthalate free

      Gluten free

      Vegan

      Non-GMO

      Cruelty free

      Made in the USA
Water, Mineral Oil, Polysorbate, 80 Octyldodecanol, Salicylic Acid, Tocopheryl, Acetate, Tetrasodium, Glutamate, Diacetate, Sodium Citrate, Citric Acid, Sodium Hydroxide, Caprylyl, Glycol Ethylhexylglycerin, Undecylenoyl, Glycine, Capryloyl, Glycine, Phenoxyethanol.
NATURAL SKIN CARE SPECIFICALLY DESIGNED FOR ATHLETES